So I've been busy for the last couple of weeks and haven't made much of anything. The 'busy' thing may be a bit an excuse though, I've been completely creativity uninspired :0( I see all of my wonderful craft buddies and their fantastic stuff but I've not had a whole lot of desire to make anything... until today!!!
Club Anya (and Friends (CA&F), now) is having a New Year's challenge day and I just HAD to participate b/c the challenges are awesome!
My first card is for

Kadie's Sewing challenge

. We are supposed to use faux or real stitches in a unique or fun way. Nooooow, maybe my way is not terribly unique BUT this is the first time I used my paper piercer and template!!! I was so excited, it's not the best ever but I was still pretty happy with it for a first shot at the technique.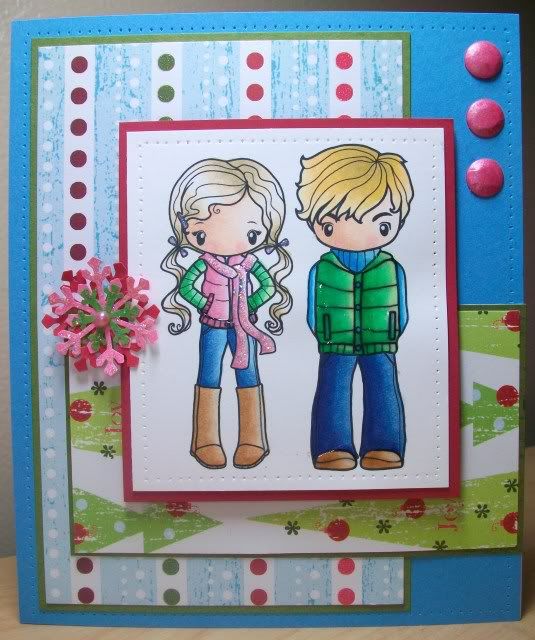 My second card is for

Kelly's "Flower Power" challenge

. I don't have many Prima's so I thought I was going to give myself an anxiety attack using this many on one card, LOL. I just got this Miss Anya Dressy set and this girl seemed just perfect for the challenge and I was ecstatic at how it came out :0)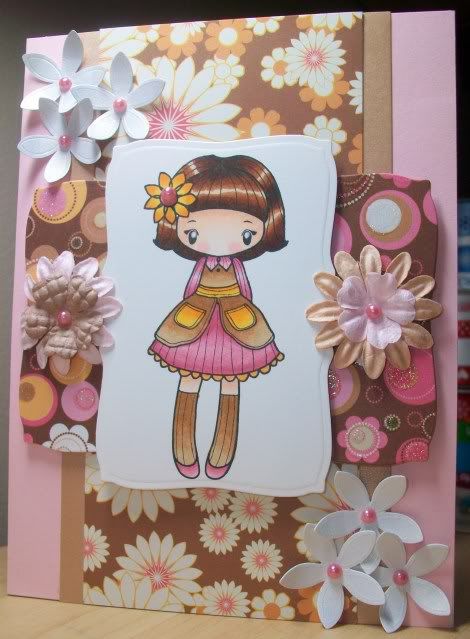 Used:
Card 1:
TGF Digi Stamps - Fall Miss Anya/Guy Ian
Copics
Paper piercer/guide
Martha Stewart snowflake punch
Card candy
Stickles/Glossy Accents
Card 2:
TGF Stamp - Miss Anya Dressy
Copics
Paper - DCWV
Nestabilities - Mega Curved Rectangles
Primas
Flat backed pearls