Marie has really outdone herself with this set! There are 10 new sprouts in all and 6 sentiments! ROLL CALL will be sold for $48, the normal cost of this would be over $90-it's a HUGE deal!
ROLL CALL is a large, limited edition set that comes on a 8 1/2 x11 sheet of untrimmed rubber, similar to your regular TGF stamp sets, NOT like the scrapbook set which was die cut.
ROLL CALL will be available, along with NEW digis by artist Jessica Hymas and Marina Neira at the TGF Store on Sat. 5/15.
****************
Roll Call Blog Hop!
ONE lucky winner will receive ROLL CALL just for hoppin' with our preview cards! Leave a comment on the CA&F blog after you've completed the hop for a chance to win-ONE random winner will be VERY happy tomorrow!
Stops along the hop:
TGF
http://www.splendidstamping.blogspot.com/
Cindy
http://www.cindyhaffnerscorner.blogspot.com/
Kadie
http://www.mymindseyecreations.blogspot.com/
Kim Nath
http://paperrocksscissors.blogspot.com/
Mary
http://alatteinkinfun.blogspot.com/
Melyssa
http://fantastink.blogspot.com/
Mercy
http://lordhavemercy-mercykerin.blogspot.com/
Randi
http://www.thedarkmermaid.blogspot.com/
Amy
http://athousandsheetsofpaper.blogspot.com/
Kelly
http://cruzinkellster.blogspot.com/
Kim Costello
http://paperbabe.blogspot.com/
Pam
http://stampingpam.blogspot.com/
Rachel <----------You are here!
http://papercraftingplace.blogspot.com/
Traci
http://wickedpixiecreations.blogspot.com/
Jessica
http://www.thewhimsicalbutterfly.blogspot.com/
Club Anya
http://www.clubanya.blogspot.com/
****************
I used three characters you've probably already seen, Odette, Jeremy and Flirty Edward because I wanted to make a set of bookmarks and I thought they'd be perfect. Stay tuned all month, I'll be using new characters from the set all the time (I used Summer on Monday)!
I totally lifted Traci's idea on securing a ribbon at the top of the bookmark, it's a super cute embellishment and very functional!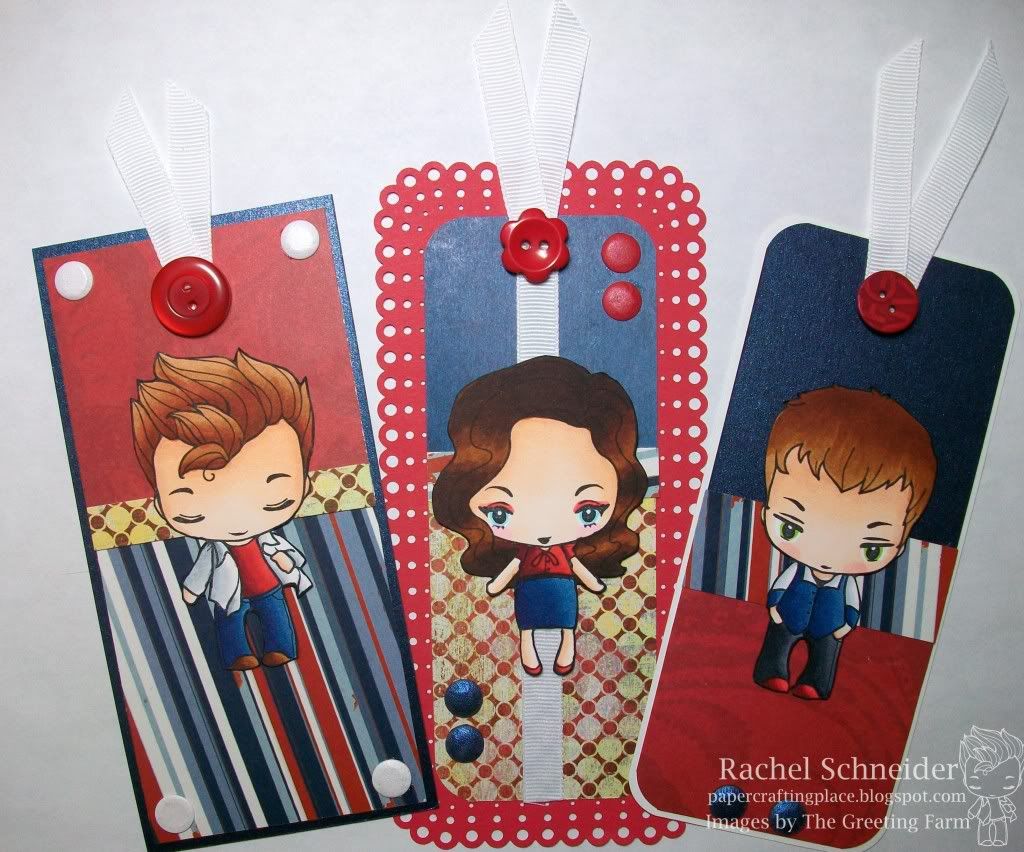 Ingredients:
TGF Stamps - Roll Call Set (available 5/15!)
Copics
Martha Stewart PATP set - Scallop 3 Dot
Scrap paper
Card Candy
Ribbon
Buttons