So I'm a mean mommy and my craft area is completely off limits to anyone who...well, who is not me :) For TGF's current contest your child can create a card for a chance to win one of the new Twinkle Tots coming out in November. My DD Brooklyn (5 in Dec) LOVES my TGF stamps (she calls them my "doll stamps") so I knew she'd love the chance to make a card.
She was in HEAVEN b/c she got to sit at the "sacred mommy desk" (my words, LOL), use my cricut AND my stamps, my butterfly punch (another fave of hers) and the big one was I let her loose with my Stickles. She's asks for them all the time and I always tell her no (the disaster she could make with glitter glue makes me shudder) so she was off the wall excited to use them. I did not however let her use my Copics.
Never. Gonna. Happen :0)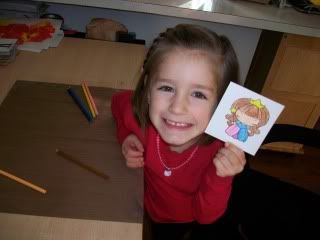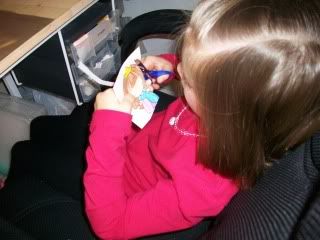 She picked the colors, paper and type of card and she did all the color and cutting too! She picked where to put everything, I was so proud of how well she did though I am a bit concerned that in a few years she'll be waaaay better than me!