The challenge on "Get Sketchy" this week was to make a shaped card and a bonus challenge of making a spring card. I thought this fit the bill on both!
I love, love, love Jeremy (AKA Emmett) that TGF put out a couple of months ago, but he looked a little angry, so through the wonders of copying and pasting I gave him Flirty Edwards eyes. I think they suit him much better!
Used the new Labels 10 Nesties (how COOL are these??) I got from Glenda. No, I don't work for Glenda, lol, I just think her prices and customer service can't be beat and that's hard to find.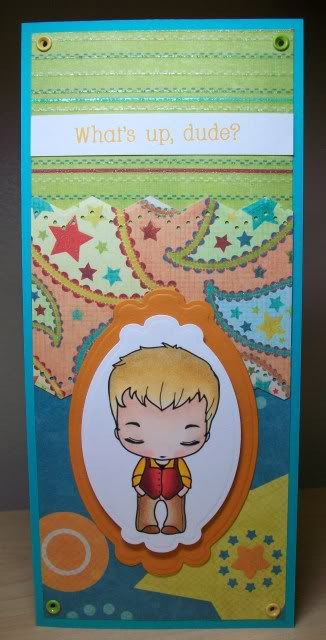 Ingredients:
TGF Limited Edition Digi Image - Jeremy (Flirty Edward's Eyes)
Nestabilities - Labels 10
My Minds Eye Paper - Just Dreamy